Green Ivy Founder Ana Homayoun's Latest Book
In Erasing the Finish Line: The New Blueprint for Student Success Beyond Grades and College Admission, Ana highlights the essential skills students need to move beyond a prescribed path and truly thrive in school and life. Available now.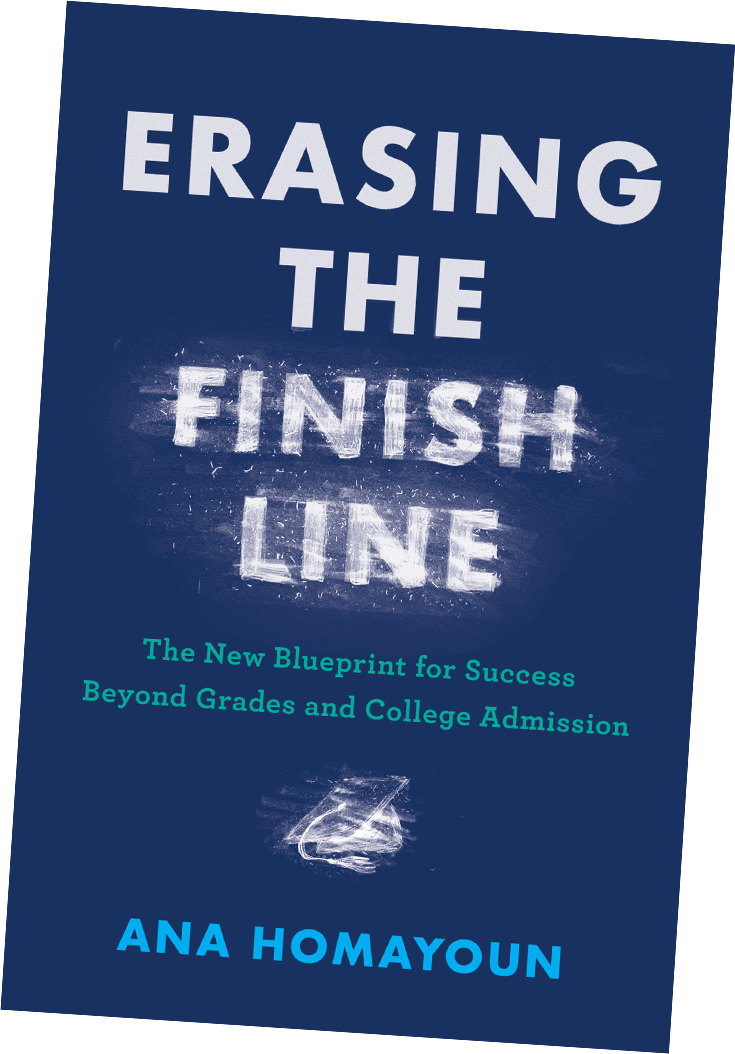 EXECUTIVE FUNCTIONING & ORGANIZATIONAL LIFE COACHING
Green Ivy Educational Consulting empowers students to develop the executive functioning skills — organizing, planning, prioritizing, managing distractions, starting and completing work and being adaptable to change — needed to thrive in and outside of the classroom. Our work is based on the time-management and wellness strategies of internationally recognized author, educator and school strategist Ana Homayoun, who founded our Silicon Valley office in 2001. 
Our organization-based methods empower students to confidently navigate today's unique educational environment. Our personalized curriculum and holistic coaching model provide students with valuable tools and guidance, encouraging them to develop their own blueprint for success and become more curious, engaged, and thoughtful learners in our fast-changing world.
Middle school students can easily become overwhelmed juggling short- and long-term assignments, extracurricular activities, and family obligations. We help students develop critical organization, time-management, and prioritization skills that encourage personal productivity and reduce stress.
High school is a time of great growth and opportunity. Our work encourages students to develop their own personal and academic blueprint for success within their school and greater communities. In doing so, our students are able to create deliberate strategies that they will carry with them through high school and beyond.
Applying to college, as well as the transition to college, can be a transformational time of growth and development. We know that students who develop positive daily habits around organization and stress-management are more likely to actively take advantage of new opportunities and resources.
"I LOVE how [my daughter] is thinking and planning ahead, it is truly amazing, and SO noticeable from a family perspective - this is the first time there is any free time that isn't taken over with stressing about all the work that needs to be done - an incredible feeling!
We have an entirely new household over here….
Thank you, thank you all!!! You guys are remarkable, SO grateful for all of your help and guidance!"
- Amy N., Parent in New Jersey
"I've been meaning to tell you how much I appreciate the impact you and your team have had on [our son]. We were facing some serious challenges by the end of middle school. Although there are a variety of factors that have made a difference, Green Ivy was able to change the trajectory in a meaningful and significant way. [Our son] has grown and matured tremendously these past 4 years, and the good habits and life skills he's acquired along the way will serve him well in the future. Thank you for making a difference."
- Parent of a Palo Alto High School Student
"Thank you so much for your uplifting talk! You provided lots of great tips and in such a positive way. I am sure it was very helpful to the participants, I know it was for me!"
- Laura S., Parent, McLean, VA,
Parent Talk Sponsored by the Safe Community Coalition
"Our high school aged son has worked with Ana from London for the past year. During this time, we have seen a marked improvement in his organizational skills, as well as a dramatic increase in his grades across all subjects during this time, and he now has a 3.7 GPA! We are especially thrilled that he has become a more confident and motivated student since working with Ana, and that he is finally able to complete his work efficiently and has time for other activities. In addition, she has taken a lot of the 'parental angst' out of the homework situation. Most remarkably, Ana has the unique ability to work with teenagers in a way that makes them feel good about themselves."
- Parents of London, UK high school student
"Green Ivy has been absolutely wonderful for my high school son! He has benefitted tremendously from a range of support and mentoring, from executive functioning to planning out big projects. Through my son's regular sessions with Green Ivy, he has come to discover and appreciate his academic strengths, learning needs and motivations and what he needs in place to flourish."
- Parent of a Palo Alto High School Student
At Green Ivy Educational Consulting, we want students to maximize their academic and personal opportunities. We know students thrive when they develop a workable system to juggle academic and extracurricular endeavors in a way that simultaneously supports social and emotional well-being.
Recent research indicates that development of executive functioning skills is a more reliable predictor of success in academics and in life than IQ, test scores, or socioeconomic status. Our research-centered approach inspires students to harness their own intrinsic motivation for greater personal and academic engagement. In doing so, we coach students to develop lifelong skills and envision their own blueprint for success.
We believe that executive functioning skills—including organization, managing distractions, adaptable thinking, and resilience when something doesn't go as planned—are key to long-lasting academic, social and emotional wellbeing. For over twenty years, our holistic approach has led to impactful results for thousands of students and families around the world. Helping students develop these skills builds confidence to try new activities, explore unique interests, and ultimately lead more purposeful, rewarding lives.
Our goal? To encourage today's students to thrive in and outside of the classroom.
"In this timely and important book, Ana Homayoun gives students and families the blueprint they need to launch into a fulfilling life and engaging career. At a time when the skills needed to keep up in any job are churning at an ever faster pace, Homayoun provides us with a guide to the foundational skills that will help us succeed no matter what."
Jeffrey Selingo
New York Times bestselling author of Who Gets In and Why and There Is Life After College

"Ana Homayoun has written the very book I've yearned for, a must-read for teachers and parents. I have been recommending Ana's work for years, but Social Media Wellness is her best yet; a thorough, well-researched and eloquent resource for parents and teachers seeking guidance about how to help children navigate the treacherous, ever-changing waters of social media and the digital world."
Jessica Lahey
Author of New York Times bestseller "The Gift of Failure: How the Best Parents Learn to Let Go So Their Children Can Succeed"
"An essential book...The Myth of the Perfect Girl challenges both girls and the adults who care about them to deeply reflect on the most important issues girls will face as they reach their full potential."
Rosalind Wiseman
author of Queen Bees and Wannabes
"Ana Homayoun gets it! Combining an extraordinary feel for what boys face in schools these days with an enormously shrewd, practical sets of tips on how to get organized and excel, this book hits a home run. Brief, to-the- point, and clear, this book is an invaluable, unique tool."
Edward Hallowell, M.D
author of Super Parenting for ADD and Driven to Distraction
"That Crumpled Paper Was Due Last Week provides an innovative and practical approach to helping boys find success. Ana Homayoun presents straightforward, easily implementable solutions that will help transform the lives of boys and parents. A wonderful read!"
Michael Gurian
author of The Wonder of Boys and The Minds of Boys
Subscribe to our email list for regular updates and upcoming events.