Erasing the Finish Line: The New Blueprint for Student Success Beyond Grades and College Admission
With wisdom, humor and grace, Ana Homayoun shares the foundational skills that help kids reflect, adapt and redirect in a world increasingly different from the one their parents grew up in.
For years, we've been led to believe that great grades, high test scores and college acceptance are key to a successful life. Yet our laser focus on these achievements leaves students feeling anxious, demoralized and unprepared.
What if we've overlooked the critical skills young adults need to navigate an ever-changing world? What fundamental skills help young people adapt, persevere and thrive? Academic advisor and early career development expert Ana Homayoun answers these questions and more in her accessible and solutions-oriented guide to transforming future generations. In her groundbreaking new book, Erasing the Finish Line, Homayoun flips the way we think about education.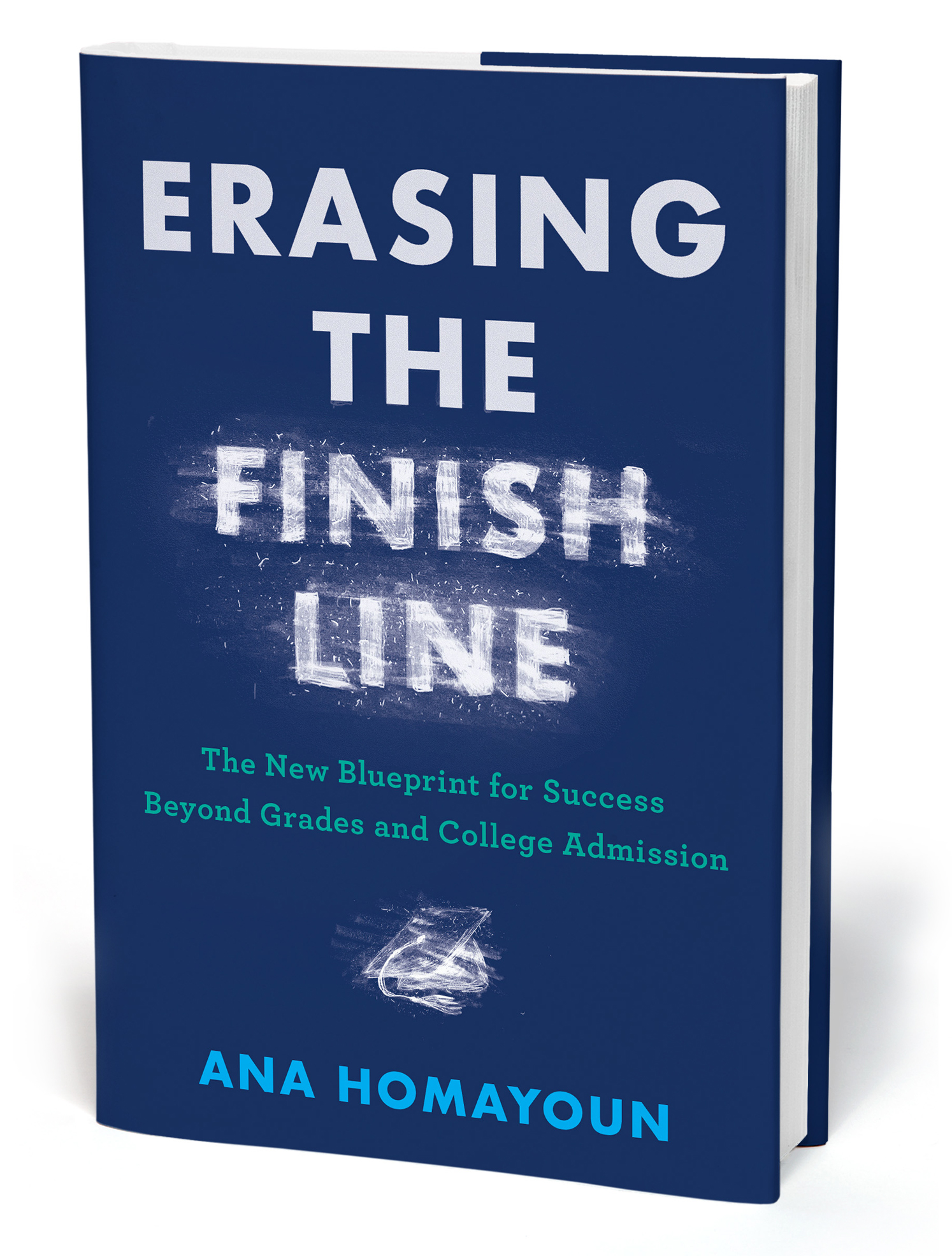 Social Media Wellness: Helping Tweens and Teens Thrive in an Unbalanced Digital World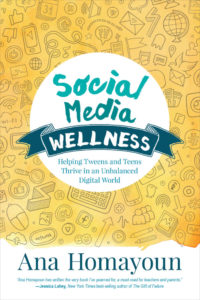 Over the past decade, the new language created by social media and technology has ostensibly widened the communication divide between generations. Though students have long managed to find distractions, today's technology innovations present new challenges for students and adults, and many adults struggle to keep up with what their kids are doing online. With a proactive, practical approach based on over fifteen years of working with students in private practice and in schools, Ana provides simple, implementable solutions focused around the three main tenets of socialization, self-regulation and safety. In the face of our "always on" culture, Social Media Wellness: Helping Tweens and Teens Thrive in an Unbalanced Digital World creates a new conversation around social media wellness - one that encourages tweens and teens to think about their own personal values and daily choices, while emphasizing the importance of parental attitude and a collaborative approach in helping all of us build healthier online habits and create more balanced lives.
"This is the book I've been waiting for. Ana Homayoun gives concrete strategies for parents to talk with their teens without using judgment and fear as tools. This is a guidebook you can pick up at anytime, and which your teen can read, too. I'll be recommending it to everyone I know."
-Rachel Simmons
author of New York Times bestseller The Curse of the Good Girl: Raising Authentic Girls with Courage and Confidence
Download free resources to accompany Social Media Wellness: Our guide to the best apps for productivity, and a sample media use agreement for parents.
"I am currently reading Social Media Wellness and loving it - I literally want to highlight every other page."
- Diana Van Der Merwe, School Counselor, International School Manila
The Myth of the Perfect Girl: Helping Our Daughters Find Authentic Success in School and Life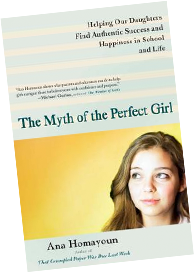 In today's achievement culture, many girls seem to be doing remarkably well - excelling in honors and sports and attending top colleges in ever greater numbers - but beneath the surface, girls are stressed and exhausted from striving to be "perfect." Their efforts to juggle schoolwork and extracurriculars, family and social obligations, as well as relationships online and IRL (in the real world) can make many girls lose sight of their own unique abilities. With honesty, empathy, and a fresh perspective, The Myth of the Perfect Girl presents advice to empower both parents and girls themselves to discover what true success and happiness means to them. This book offers practical, thoughtful solutions to promote the social, emotional, physical and spiritual wellness of today's young girls and women.
"The Myth of the Perfect Girl challenges both girls and the adults who care about them to deeply reflect on the most important issues girls will face as they reach their full potential."
ROSALIND WISEMAN
author of Queen Bees and Wannabes
Download a free activity guide to accompany The Myth of the Perfect Girl.
That Crumpled Paper Was Due Last Week: Helping Disorganized and Distracted Boys Succeed in School and Life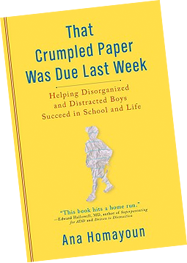 In That Crumpled Paper Was Due Last Week, Ana explains how she's encouraged even the most disorganized, scattered, and unfocused boys to become successful young people who consistently meet and overcome their personal and academic challenges. It starts with a simple fact: Most boys need to be taught how to get organized, how to study, and - most importantly - how to visualize, embrace and meet their own goals. With an approachable, no-nonsense style, Ana's book can be used by parents to identify their son's dis-organizational type, help him set goals that he is intrinsically motivated to meet, and aid him in managing social pressure and anxiety. Much more than a how-to guide, this insightful and user-friendly book provides a roadmap for the success too many boys have trouble finding in school and in life.
"That Crumpled Paper Was Due Last Week provides an innovative and practical approach to helping boys find success. Ana Homayoun presents straightforward, easily implementable solutions that will help transform the lives of boys and parents."
MICHAEL GURIAN
author of The Wonder of Boys and The Minds of Boys
Download free resources to accompany That Crumpled Paper Was Due Last Week: Our study schedule guide, and Taming the Distractions PDF.